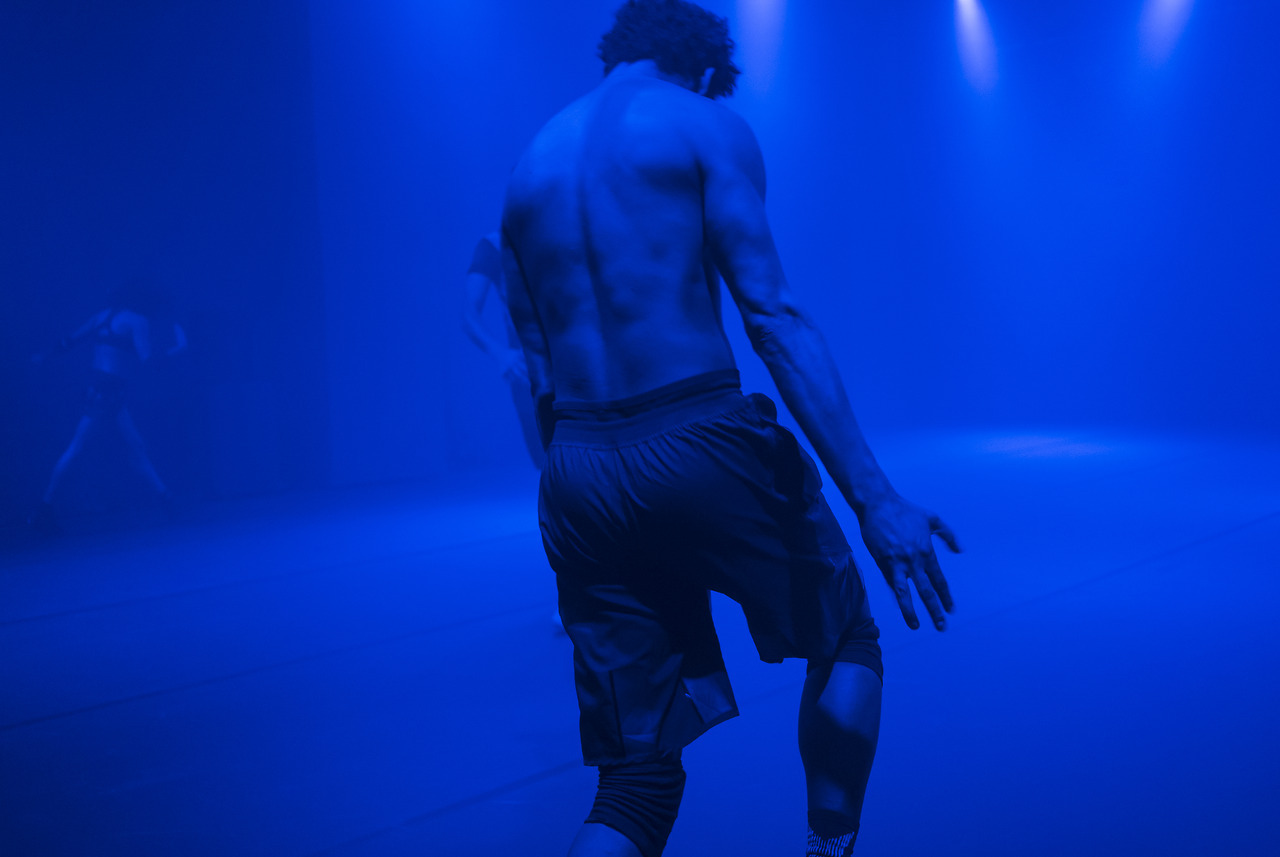 minor matter (2016) 
minor matter is the second part of Lewis's trilogy, which began with Sorrow Swag in blue,  constructed for three performers.  Two discursive apparatuses are at play—blackness and the black box. In this work, Lewis turns to the color red to materialize thoughts between love and rage.  The work unfolds multi-directionally creating a poetics of dissonance from which questions of re-presentation, presentation, abstraction, and the limits of signification emerge. Throughout the choreography the performers push their bodies against the boundaries of the stage simultaneously illustrating a humble relationship between their bodies and the space that encapsulates them. 
In minor matter, sound travels across musical epochs to arrive at the poetics of the intimate present. Built on the logic of interdependence, the theater's parts—light, sound, image, and architecture—become entangled with the three performers, giving life to a vibrant social and poetic space.
Ligia Lewis was awarded a Bessie for Outstanding Production for minor matter (2017)

opening lines of minor matter are excerpts taken from Remi Raji's "Dreamtalk"

Concept & Choreography: Ligia Lewis 
in creation with performers: Jonathan Gonzalez, Hector Thami Manekehla   replacement: Tiran Willemse, Corey-Scott Gilbert
Musical Dramaturgy: Michal Libera Sound Design: Jassem Hindi, Styling: Alona Rodeh, Lights: Andreas Harder
Dramaturgy: Ariel Efraim Ashbel, Assistance: Martha Glenn, Press & Production/Distribution: Nicole Schuchardt - HAU Hebbel am Ufer
minor matter is a production by Ligia Lewis in co-production with HAU Hebbel am Ufer. Funded by the Governing Mayor of Berlin - Senate Chancellery - Cultural Affairs and Fonds Darstellende Künste e.V.  Additional support provided by residencies at FD-13, PACT Zollverein, and collective address.

Other presentations include: BMW Tate Live Exhibition: Ten Days Six Nights, Stedelijk Museum with Julidans, WoWmen Festival/Kaaitheater, CONVERSO
---
photo: Martha Glenn, Julia Cervantes